"FIVE WOMEN ARCHITECTS: THEIR CAREERS AND CONTRIBUTIONS TO AMERICAN ARCHITECTURE" BY BARBARA POWERS 
Originally broadcasted live on March 16th, 2021.
In this lecture, architectural historian Barbara Powers is examining the careers and contributions of five women practicing architecture in American during the late 19th and early 20th centuries. Learn how these exceptional women overcame the obstacles confronting women in the practice of architecture through their remarkable work and personal achievements. Discussion includes: Sophia Hayden, designer of the Women's Building at the 1893 World's Columbian Exhibition in Chicago; Marion Mahoney Griffin, who worked in Frank Lloyd Wright's studio; Julia Morgan, who's most famous work is San Simeon, the Hearst Castle in California; Theodate Pope, born in Ohio her designs for schools and her family home, now Hill-Stead Museum are in Connecticut; and Florence Kenyon Hayden, designer of Oxley Hall, Ohio State University's first women's dormitory and held state and national positions in the National Women's Party (active in the suffrage movement in Ohio and the nation). 
Barbara Powers has 38 years of experience with historic survey and the National Register of Historic Places programs in Ohio. Powers serves on the Thomas J. Moyer Ohio Judicial Center Commission. She was the state coordinator for the Society of Architectural Historians online publication Archipedia Classic Buildings. Published works include "Ohio's Pride, the Art and Architecture of the Ohio State Office Building" in Timeline, a publication of the Ohio History Connection; "Louis Bromfield's Big House at Malabar Farm: Form Follows Fiction" in Recreating the American Past, Essays on the Colonial Revival published by the University of Virginia Press and "The Architecture of the Ohio Governor's Residence" in Our First Family's Home published by Ohio University Press. She holds a Bachelor's degree in American Studies from Miami University and a Master's in Architectural History with a certificate in Historic Preservation from the University of Virginia.
Barbara has researched and lectured on late 19th and early 20th century architectural topics including Ohio architecture, women architects, Ohio architect Frank Packard, the City Beautiful Movement, and progressive era industrial architecture. She has conducted numerous tours of Columbus architecture and civic spaces and has given courses on Discovering Ohio Architecture: Early Settlement to Modern Ohio for the Columbus Landmarks, Upper Arlington Lifelong Learning, Ohio State University Marion Branch Adult Education, Heritage Ohio and the Ohio History Connection.
"THE ARCHITECT WHO DEFINED THE CHAMPION CITY" BY KEVIN ROSE 
Originally broadcasted live on April 6th, 2021.
Join Kevin Rose, historian with the Turner Foundation and national president of the Victorian Society, as he examines the forces that shaped the Champion City and the young architect who made it live up to its name.
In the late-nineteenth century, Springfield, Ohio, grew to become one of the most important centers of industry and invention in America. Money from these innovations created wealth, as well as a pride that the self-championed Champion City was second to none. These industrialists turned to a young local architect, Charles Cregar, to help them realize the dream of the idyllic city. Over his seventeen-year career, Cregar had carte blanche control over the city's aesthetic, designing nearly every important structure, including the Arcade, Mitchell Block, and City Building and Market.
Kevin Rose is a Historian and Director of Revitalization at the Turner Foundation. Kevin's research focuses on the history of Springfield's built environment and how architectural sites are interpreted to the public. In addition, Kevin oversees the foundation's work in historic preservation, cultural tourism, and creative placemaking. Through his work, he gives lectures and tours on history, architecture, and art topics throughout the Midwest. He has researched and developed over forty walking and bicycle tours, with topics ranging from early-Victorian neighborhoods to modern architectural landmarks of the 1970s. Kevin holds B.A. in History from Wittenberg University and M.A. in Interpretive Studies at the University of Leicester in England. He is a founder of the Friends of the Hartman Rock Garden, and Lillian Gish Film Festival. In addition, Kevin serves on the state board of Heritage Ohio. He currently serves as the chair of the Ohio Humanities Council and as the national president of the Victorian Society in America.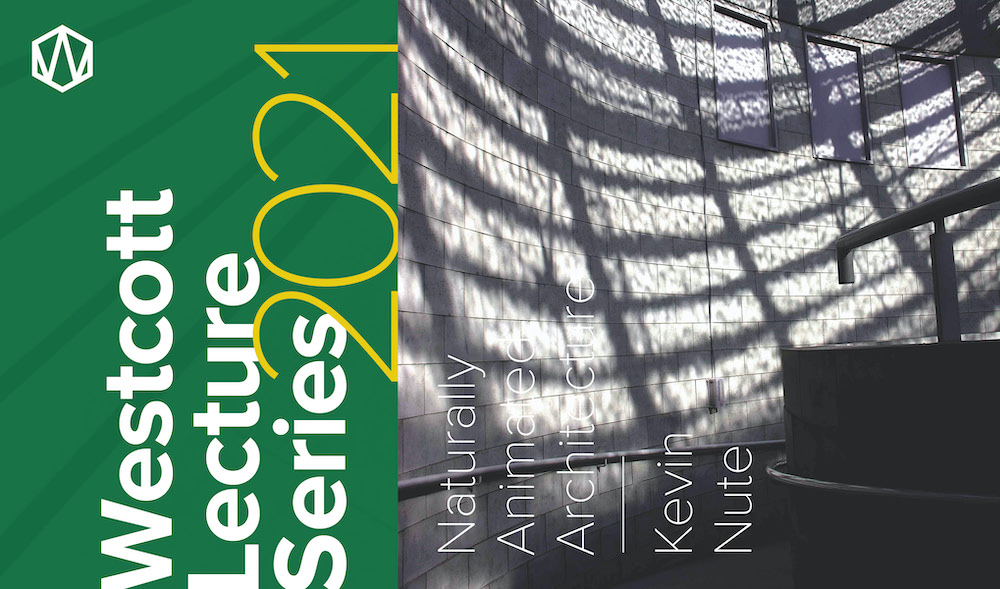 "NATURALLY ANIMATED ARCHITECTURE" BY KEVIN NUTE
Originally broadcasted on Wednesday, May 26th, 2021.
Please join architectural theorist and University of Hawai'i professor Kevin Nute as he explains the benefits of including rather than excluding the weather from indoor environments. Naturally Animated Architecture will show how the movements of sunlight, wind and rain can be used to improve the well-being of people in buildings at the same time as raising awareness of underused sustainable practices. In demonstrating how buildings can be designed to reconcile their traditional role as shelter from the weather with the active inclusion of its movement, it will show that in the process of protecting us from the extremes of nature, architecture can also be a means of actively reconnecting us with it.
Kevin Nute is well-known to the Wright community as an author of "Frank Lloyd Wright and Japan" (1993). Nute's work focuses on the transcultural lessons of Japanese architecture. In addition to "Frank Lloyd Wright and Japan" (1993), he is the author of "Place, Time and Being in Japanese Architecture" (2004), "Naturally Animated Architecture" (2018), and most recently, "This Here Now: Japanese Building and the Architecture of the Individual" (2020). Kevin received his architectural training at the University of Nottingham before working in practice in London, Hong Kong and Singapore. He earned his doctorate at Cambridge, has been a visiting Fulbright Scholar at the University of California, Berkeley, and a Japan Foundation Fellow at the University of Tokyo. He has taught at Muroran Institute of Technology in Japan and at the University of Oregon, and is currently with the University of Hawai'I at Mānoa.
Westcott Lecture Series program was made possible by a CARES Act grant from the National Endowment for the Humanities.          
Westcott Lecture Series is part of our "Westcott at Your House," which is offered at no cost. We ask that you consider Westcott MEMBERSHIP to support the Westcott House during these challenging times. You can learn more and join HERE.
Questions? Email info@westcotthouse.org.