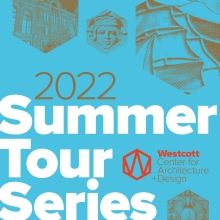 Date:
Saturday, July 2, 2022 - 10:00am to 11:00am
Saturday, July 2 at 10:00 am / Guided by Kevin Rose / Mobility 2
Free for Kids and Parents/Guardians
Join us to explore the hidden treasures of downtown Springfield on this interactive youth tour. From curious monkeys on Warder Library to watchful lions on the Bushnell Building, we will discover the rich environment that surrounds us and gain an appreciation for what architecture tells us about our community. Geared for children ages 7-12. Meet in the Esplanade, across from the Heritage Center, 117 South Fountain Avenue. Adult accompaniment required.
Join the Westcott Center for Architecture + Design as we celebrate our region's distinctive architecture and history with our annual Summer Tour Series.
The Summer Tour Series examines the architecture, design, and history of the built environment in the Greater Springfield Region. The 2022 series includes a variety of walking tours and happy hour tours featuring diverse subjects and fascinating stories. Architects, curators, historians, and local professionals guide each tour. This year's series starts on June 15th and runs through September 17th.
Please be advised that we do not mail tickets. You will receive an order confirmation by email. You will be automatically added to the attendee list upon the completion of your order.
Current COVID Guidelines:
If you feel unwell or have symptoms of COVID-19, please stay home. CDC recommends that even fully vaccinated people should still get tested if experiencing COVID-19 symptoms. If you develop symptoms after purchasing your tickets, please contact our staff at info@westcotthouse.org for a refund.
Our patrons, as well as staff and volunteers, are welcome to wear a mask. However, masks are optional indoors and outdoors.

We limited attendance for each Summer Tour Series program.
Accessibility:
Our tours and programs are developed for a broad audience, including those with disabilities and decreased mobility. Tours move at a leisurely pace with brief periods of standing at tour stops. If entering a building or house, some stairs or inclines may be possible. All tours are assigned mobility levels between 1-3. 
Mobility Level 1
Up to 6 blocks walking, mostly flat terrain, paved, stairs not likely. Wheelchair accessible.
Mobility Level 2
May be more than 6 blocks walking, some hills, mostly paved, some stairs possible. Please call or email about wheelchair accessibility.
Mobility Level 3
Considerable walking, various terrains, unpaved areas. All bicycle tours. Please call or email about wheelchair accessibility.