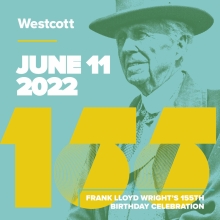 Date:
Saturday, June 11, 2022 - 7:00pm to 11:00pm
Location:
Garden Party at the Westcott House
Join us for our annual garden party featuring live music, dancing, and an auction benefiting the Westcott House. Live music by Dean Simms Orchestra. Open bar and heavy hors d'oeuvres by Seasons Kitchen.  
Summer cocktail attire. The proceeds directly support our architectural icon, Frank Lloyd Wright's Westcott House. Thank you for your participation and generosity! 
CLICK HERE TO BUY YOUR TICKETS
Latest Covid-19 precautions: If you feel unwell, have symptoms of COVID-19, or are aware of being recently exposed to Covid-19, please stay home. CDC recommends that even fully vaccinated people should still get tested if experiencing COVID-19 symptoms. If you develop symptoms after purchasing your tickets, please contact our staff at info@westcotthouse.org for a refund. We will gladly assist you. Our patrons, as well as staff and volunteers, are welcome to wear a mask. However, in accordance with CDC and State of Ohio, masks are optional indoors and outdoors.
Our gratitude goes to Park National Bank, our Leadership Sponsor!