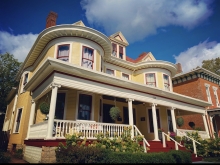 Date:
Saturday, October 1, 2022 - 1:30pm to 2:15pm
Take a leisurely stroll through the South Fountain Historic District and learn about a variety of architectural styles featured in this Victorian-era neighborhood. Your guide and historian Kevin Rose will highlight some of the most iconic homes, their history and significance. This 45-minute tour is offered by the Westcott Center for Architecture + Design at no cost as part of Art & Architecture weekend organized by the South Fountain Preservation. This walking tour is also a great introduction to a Tour of Homes scheduled for Sunday, October 2nd, during which the guests are able to go inside and meet the owners of selected homes in the district. Learn more and buy your tickets here.
Following the walking tour, enjoy the food trucks, music, and over 30 artists showcasing and selling their metal work, fabric and textiles, watercolors, oil paintings, and much more as part of the Art SoFo art fair.
Meet outside First Baptist Church at 638 South Fountain Avenue.