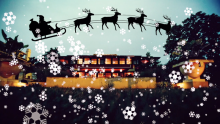 Date:
Thursday, December 15, 2022 - 6:00pm to 7:00pm
Friday, December 15th from 6pm to 7pm EST.
Link to an online live stream will be provided to our registrants.                      
We are thrilled to invite all the friends, near and far, to join in and celebrate this holiday season with us via virtual platform!
Free to the public. Please register to receive our event reminder and a link to access the live stream. Contact info@westcotthouse.org if you have any questions.
Those who register will be automatically included in a special drawing. We will select a grand prize winner who will receive a selection of our Westcott shop merchandise, as well as the second and third prize winners who will receive a gift of an authentic glass ornament handmade in Poland.
THIS IS A VIRTUAL EVENT ONLY. FOR AN IN-PERSON HOLIDAY PARTY INFORMATION CLICK HERE.
Questions? Email info@westcotthouse.org.