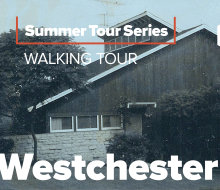 Date:
Saturday, June 24, 2023 - 10:00am to 11:30am
Saturday, June 24 at 10:00am / Guided by Vicki Rulli and Tom Heaphey / Mobility 2
$15 General / $12 Members
Dick Link and Andrew Hellmuth, then up-and-coming local developers, platted Westchester Park in 1953. Its rolling hills and strong deed restrictions made it an ideal neighborhood for the architect-designed modern home. Join us as we examine some of the best local works from the mid-century, including houses by Phil Snyder, Jack Kline and two show-homes by Better Homes and Gardens magazine. Meet outside Living Water Church at 1910 St. Paris Pike.
Join the Westcott Center for Architecture + Design as we celebrate our region's distinctive architecture and history with our annual Summer Tour Series.
The Summer Tour Series examines the architecture, design, and history of the built environment in the Greater Springfield Region. The 2023 series includes a variety of walking tours, bicycle, virtual, and happy hour tours featuring diverse subjects and fascinating stories. Architects, curators, historians, and local professionals guide each tour. 
Please be advised that we do not mail tickets. You will receive an order confirmation by email. You will be automatically added to the attendee list upon the completion of your order.
Accessibility:
Our tours and programs are developed for a broad audience, including those with disabilities and decreased mobility. Tours move at a leisurely pace with brief periods of standing at tour stops. If entering a building or house, some stairs or inclines may be possible. All tours are assigned mobility levels between 1-3. 
Mobility Level 1
Up to 6 blocks walking, mostly flat terrain, paved, stairs not likely. Wheelchair accessible.
Mobility Level 2
May be more than 6 blocks walking, some hills, mostly paved, some stairs possible. Please call or email about wheelchair accessibility.
Mobility Level 3
Considerable walking, various terrains, unpaved areas. All bicycle tours. Please call or email about wheelchair accessibility.