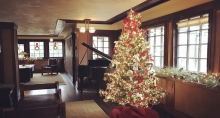 Date:
Friday, December 8, 2023 - 6:00pm to 8:00pm
Friday, December 8th, 2023 from 6 to 8pm
$35 for Westcott Members. $50 for Non-Members. The event will feature live music performance, open bar and holiday hors d'oeuvres. Our store will be open throughout the evening. 
Join us for a spirited evening filled with tasty cocktails, caroling and holiday cheer! Enjoy this unique opportunity to celebrate holidays in a beautiful space of the Westcott House, decorated for the season. 
Questions? Email info@westcotthouse.org.