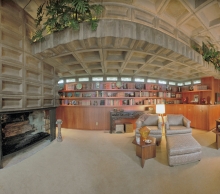 Date:
Friday, June 16, 2023 - 5:30pm to Sunday, May 19, 2024 - 5:00pm
"Wright in Ohio" is one of the current exhibitions organized by the Springfield Museum of Art! The exhibition is on view from June 16, 2023 - May 19, 2024. Westcott House is thrilled to partner with the art museum on a number of programs planned on the occasion of this show.
"Wright in Ohio" is an exhibition of panoramic photographs of Wright sites by Thomas R. Schiff. Westcott House has collaborated with Tom for nearly two decades, which resulted in an exhibition of his work at Westcott in 2007, a publication of "Wright Panorama" (2010), and "Wright in Ohio" (2017), among other initiatives. We are thrilled to continue exploring Tom's work through this new opportunity!
This summer, our visitors who purchase the ticket to the Westcott House are automatically eligible for complimentary admission (value $5) to the Springfield Museum of Art and "Wright in Ohio" exhibition. You will receive a ticket upon your visit to the Westcott House.
Art Museum Hours: Wednesday-Saturday 9am-5pm; Sunday 12:30-4:30pm. Closed on Mondays,Tuesdays & Major Holidays. 
Art Museum's Address: 107 Cliff Park Road, Springfield, Ohio 45504 
More Info at www.springfieldart.net 
This complimentary admission is brought to you through the partnership with the Greater Springfield Convention & Visitors Bureau. Visit visitgreaterspringfield.com to plan your itinerary around more attractions in the region.