Multimedia Design Studio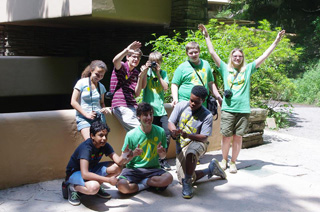 Summer program for students 13-18 years old.
June 12-23, 2017. Monday through Friday from 9am to 3pm. Free of charge; lunch provided. Limited to 12 students. 
A unique career discovery opportunity for high school students. Presented by the Westcott Center for Architecture + Design and The Now Device.
Students will have a unique opportunity to work with artists, architects and design professionals, while building their own portfolios of digital art inspired by the national landmark, Frank Lloyd Wright's Westcott House. Studio projects will combine the technology of digital videography, computer-based editing and photography, with techniques of design and creative thinking. 
To apply, students must submit a short letter of interest (up to 100 words) and a reference contact from a selected teacher. Inquiries may be sent by e-mail to Marta Wojcik at mwojcik@westcotthouse.org.
The program is supported by the Ohio Arts Council, National Endowment for the Arts, Springfield Foundation and The Turner Foundation.
Learning STEM through Design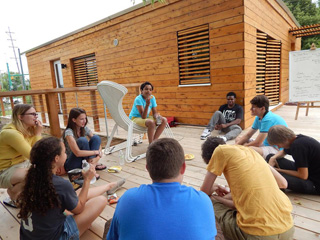 The Westcott Center for Architecture + Design is currently working on developing and testing our outreach initiative "Learning STEM through Design". Working with the local and regional school administration, a team of science teachers, architects, designers and college-level advisors, we are developing an immersive problem-based learning opportunity targeting middle school and high school youth in Clark County and beyond. As a result, students will be invited to participate in hands-on activities at Frank Lloyd Wright's Westcott House, as well as the Solar Decathlon House recently installed on our museum site. The Solar Decathlon House was designed and built by Norwich University (Vermont) students for an international competition organized by the U.S. Department of Energy. Following the competition, Norwich University donated their home to our organization with the goal of utilizing it as an educational tool to teach area youth about the science and technology applied to this unique design. We will facilitate interactive activities in the areas of science, engineering, mathematics, technology and arts. A multidisciplinary approach is the key strategy for this program. 
"Learning STEM through Design" is a Deep Learning experience. We will apply all the steps of design process to instigate creative thinking and problem solving. These steps include:
Define design problem and lesson objectives
Investigate: interview, research web, articles, books, observe, and/or role-play
Develop ideas: brainstorm or mindmap, rough sketch, storyboard, rapid prototype
Mock ups: create possible solutions
Work plan and making: create finished product and test according to criteria
Present: show, demonstrate, explain the details of the final solution and process stages
Evaluate and revise: use comments from audience and personal reflections to determine effectiveness and changes needed
 
This project will fulfill the learning objectives of the STEM curriculum while allowing students to explore its real life applications as observed in the design of the Solar House and the Westcott House.