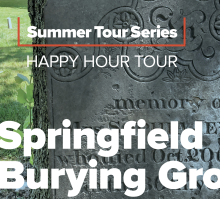 Date:
Wednesday, May 31, 2023 - 5:30pm to 6:30pm
Wednesday, May 31 at 5:30pm / Guided by Kevin Rose
$20, which includes one drink at Mother Stewart's Brewery / Mobility 1
It is perhaps appropriate that the Metallic Casket Company factory complex wraps around two sides of Springfield's oldest cemetery. This land, set aside by James Demint in 1801, is the eternal resting place for Springfield's earliest residents, including Demint himself. Join historian Kevin Rose on a walk of hallowed ground and hear the stories of Springfield pioneers, Revolutionary War soldiers, and a member of the Boston Tea Party. We will visit Mother Stewart's Brewery, housed in a restored section of the Metallic Casket Factory, and sample one of their award-winning beers. Meet outside the brewery at 102 West Columbia Street.
Join the Westcott Center for Architecture + Design as we celebrate our region's distinctive architecture and history with our annual Summer Tour Series.
The Summer Tour Series examines the architecture, design, and history of the built environment in the Greater Springfield Region. The 2023 series includes a variety of walking tours, bicycle, virtual, and happy hour tours featuring diverse subjects and fascinating stories. Architects, curators, historians, and local professionals guide each tour. 
Please be advised that we do not mail tickets. You will receive an order confirmation by email. You will be automatically added to the attendee list upon the completion of your order.
Accessibility:
Our tours and programs are developed for a broad audience, including those with disabilities and decreased mobility. Tours move at a leisurely pace with brief periods of standing at tour stops. If entering a building or house, some stairs or inclines may be possible. All tours are assigned mobility levels between 1-3. 
Mobility Level 1
Up to 6 blocks walking, mostly flat terrain, paved, stairs not likely. Wheelchair accessible.
Mobility Level 2
May be more than 6 blocks walking, some hills, mostly paved, some stairs possible. Please call or email about wheelchair accessibility.
Mobility Level 3
Considerable walking, various terrains, unpaved areas. All bicycle tours. Please call or email about wheelchair accessibility.