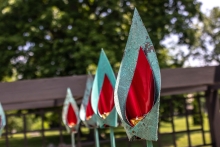 Date:
Friday, September 1, 2023 - 11:00am to Saturday, September 30, 2023 - 5:00pm
"Westcott Callas" is a temporary installation by Terry Welker, FAIA, funded by a Culture Works grant and made possible through the National Endowment of the Arts. Terry's interpretation of the Westcott garden seeks to inspire visitor's exploration of Wright's philosophy on landscape design, gardens, and their relationship to architecture. Our visitors can enjoy this installation through September 30th as part of the regular tour experience. The exhibition can be also viewed anytime during museum hours - just stop by the museum shop and our staff will direct you to the garden!
Terry Welker, FAIA, is an architect/sculptor from Dayton, Ohio. He received his Master of Architecture from the University of Cincinnati. At his Welker Studio, he creates large-scale suspended public art and temporary installations that are exhibited nationally. As an arts advocate, and frequent Pecha Kucha presenter, he challenges audiences to 'see' the world in new ways. In 2012, he led a group of 30 artists to create the temporary "You Are Here" project. In 2017, he installed his largest permanent works to date, "Fractal Rain," at the downtown Dayton Metro Library (seen above), and "Constellation' at Dayton Children's Hospital. He was elevated to the American Institute of Architects College of Fellows in 2016 for his work in fine art. He is currently on the faculty of the Miami University Department of Architecture in Oxford, Ohio.
My first objective of this installation is to help people recognize that this garden, like other Wright gardens, places Wright's work into a very local landscape context. He generally liked to expose the house foundations, and saw the surroundings just as important as the interiors, as they make their own outdoor rooms. He liked fleeting color, native perennials and enjoyed using sculpture to create focal points. The Westcott Callas help define three outdoor rooms of the Garden. 

- Terry Welker, FAIA
Questions? Email info@westcotthouse.org.