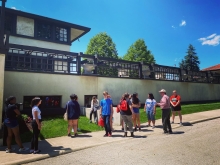 Date:
Wednesday, April 19, 2023 - 6:00pm to Saturday, May 6, 2023 - 12:00pm
Training Sessions: Wednesdays (April 19, April 26)  6pm to 7pm via Zoom; Saturdays (April 22, 29 and May 6)  8:30am to 12pm in person. 

Join the Westcott Volunteer Team! This professionally-designed volunteer training program will connect you with your community in new and amazing ways! Our program combines tours, lectures, and hands-on learning. You will learn incredible stories about the Westcott House and this region, and then have the opportunity to share your knowledge with others through your role as a docent, guide, museum store volunteer, researcher, and community builder.
A commitment of 4 hours or more on a monthly basis is the most beneficial way to volunteer at the Westcott House. A regular schedule provides an opportunity to become truly fluent in interpreting the site to the public and effectively engage with the visitors and staff. Our volunteers' schedules vary from 4 hours a month to 5 hours a week, so you will be able to make a commitment that best fits your schedule.
Our volunteers come from as far as Cincinnati or Columbus, so we often welcome a volunteer class that is truly regional! No prior experience in the areas of architecture, design and history is required.
Volunteer Benefits:
-  Learning
-  New and lasting friendships
-  Westcott Membership
-  Gift shop discounts
-  Flexible scheduling
-  Continuing education opportunities
-  Engaging with local, national and international visitors
-  Making our community a better place!
Cost: $25 (covers training materials, and refreshments). Our trainees are required to have access to internet in order to attend Zoom sessions, and be willing to participate in a moderate physical activity (walking, using steps, and standing for a period of time). Our training sessions will take place via Zoom, and in person at the Westcott House and a lecture hall at the Clark County Public Library. A detailed itinerary will be shared with the participants in advance.
Questions? Contact us at info@westcotthouse.org.