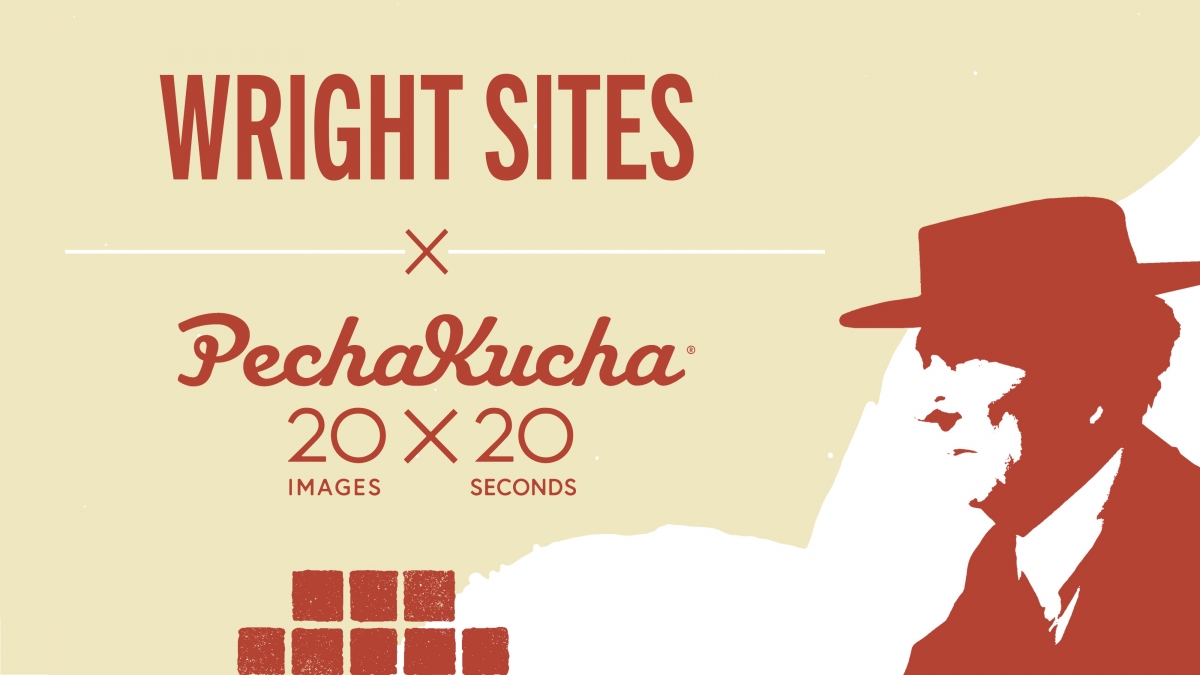 The Westcott House, Frank Lloyd Wright Building Conservancy, and Wright sites across the nation are teaming up with PechaKucha to present a live online global event in celebration of Wright's work and legacy. Presentations will be given in the highly-visual and efficient PechaKucha style, which consists of 20 image-based slides that automatically advance after 20 seconds, so each talk lasts only 400 seconds.
The free virtual event, scheduled for Tuesday, June 8, 2021 at 7:00 p.m. EDT, will feature curators, homeowners, and scholars, including:
 
Gilbert Adu-Boampong, "Inspired by Fallingwater"
Karen Ettelson, "Wright on Wheels. Saving Booth Cottage"
Helene Mansheim, "Beth Sholom Synagogue"
Kevin Nute, "Wright's Notion of Organic Form"
Ayad Rahmani, "Frank Lloyd Wright and Ralph Waldo Emerson: Where architecture and literature unite in search of meaning."
Kathryn Smith, "Harriet and Sam Freeman House: The California Dream"
Steve Sikora, "What Color is Cherokee Red?"
Tim Totten, "Frank Lloyd Wright Goes to Hollywood"
PechaKucha (Japanese for "chit chat") is the world's fastest-growing storytelling platform, used by millions around the globe. Mark Dytham, PechaKucha co-founder, says, "Wright has been a true inspiration globally and was always at the forefront of technology and innovation, so what better moment to visit these Wright sites as we face a new world, to find inspiration."
Today, PechaKucha Nights are held in more than 1,200 cities in 140 countries. To gain inspiration from 50,000+ PechaKucha stories, visit pechakucha.com
You may also view via live-stream event online. Presentations will be available to view within 24 hours after the event. For additional information, visit westcotthouse.org.
Questions? Email info@westcotthouse.org.